Christmas Trading Hours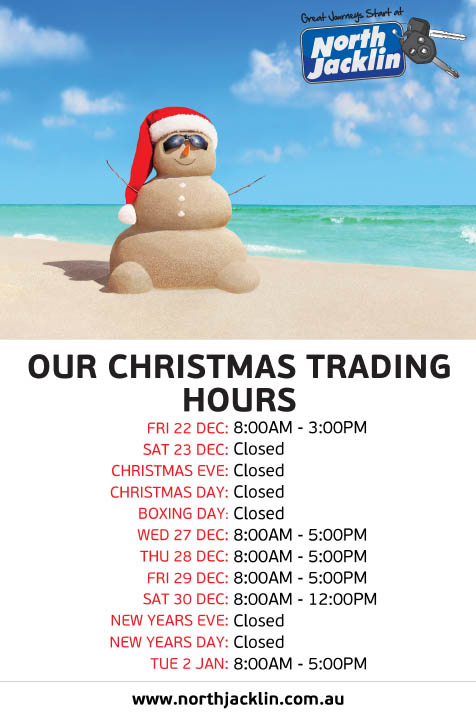 The Great Community Car Raffle
The Rotary Club of Mackay North in conjunction with North Jacklin Motor Group seek participation from local Schools, Sporting Clubs, Charities and Community Groups which have a registered ABN or a Certificate of Incorporation to be involved in the 2017 "Great Community Car Raffle."
The Raffle will be administered by the Rotary Club of Mackay North with North Jacklin Motor Group donating the raffle prize at no cost to the community. The prize is a brand new 2017 Mitsubishi Mirage ES Manual Hatchback including registration. All proceeds from the sale of raffle tickets by each organisation will be returned to that organisation. Raffle tickets will be sold at $2.00 each or 10 per book at $20.00.
An expression of interest meeting will be held at North Jacklin Honda Showroom Cnr Gordon & Macalister Streets, Mackay at 7pm on Thursday 18th May 2017. The Agreement will be issued at the meeting on 18th May 2017. Any organisation wishing to participate, must complete and return the Agreement no later than 21st May 2017 by email to Frank Caruana. Alternatively, those authorised to do so may complete the Agreement (with ABN or Certificate of Incorporation) at the meeting.
Tickets will be available for collection at the North Jacklin Honda Showroom on Monday 27th March between 9am and 4pm. The raffle runs from 1st April 2017 until 31st July 2017. All sold raffle ticket butts, monies, and unsold raffle tickets must be returned to the Rotary Club of Mackay North representative at North Jacklin Showroom (Elsa Nash) no later than 31st July 2017.
The raffle will be drawn at North Jacklin Honda Showroom Cnr Gordon & Macalister Streets, Mackay at 7pm on the 14th August 2017. Interested parties are welcome to attend.
The presentation of cheques payable to all participating organisations will be presented at North Jacklin Honda Showroom, Cnr Gordon & Macalister Streets Mackay on 28th August 2017 from 7pm. Please Note: It is essential that a representative of participating organisations attend the presentation to receive the organisation's proceeds cheque.
FOR FURTHER INFORMATION CONTACT Rotarian Frank Caruana:
Email soromio@bigpond.com Mobile 0439 947 726
Mercedes-Benz Dealer adds Glamour to Festival of Fashion
The second annual Fashion Week Mackay, to be held in October, promises to be full of flair and luxury.
North Jacklin Mercedes-Benz has been announced naming rights sponsor of the three-day event.
The North Jacklin Mercedes-Benz Fashion Week Mackay will include four events across the three days from October 6 to 8.
Council's Economic Development and Planning Committee chair Cr Amanda Camm said it was fantastic to welcome North Jacklin Mercedes-Benz aboard.
"Sponsorship such as this helps the fledgling event grow and prosper,'' Cr Camm said.
Other corporate partners include Mackay City Centre, Caneland Central, Mackay Airport, Harrup Park Country Club and the MECC.
Jason Checuti serves as Ambassador again in 2016, adding international credibility and expert advice to the event.
Cr Camm, who announced the naming rights sponsor at a media launch at Artspace today (Wednesday, July 20), said the inaugural Fashion Week Mackay was well received last year.
"Organisers are keen to build on the momentum of that success, with four fantastic events planned again this year,'' she said.
The North Jacklin Mercedes-Benz Fashion Week Mackay events for 2016 include:

Caneland Central VIP Spring Fashion Launch on October 6
Harrup Park Cocktail Lounge on October 7
The Mackay City Centre Streets of Style on October 8
The MECC Unroofed Runway Under the Stars, also on October 8.

"The MECC Unroofed event is a particularly exciting addition to this year's Festival of Fashion,'' Cr Camm said.
"It will be held on the lawns in the Civic Precinct in the area between Artspace Mackay and the MECC,'' she said.
Growing North
Dealership proud to extend its family
New additions to any family are always exciting, and North Jacklin's takeover of Carlisle Motors on February 29 is no exception.
Uniting two of Mackay's most respected car dealerships, North Jacklin's expansion will bring a new phase to the businesses long established reputation, with an increased range, allied to the dealerships proud mantra of 'treating every customers as part of the North Jacklin family'.
For more than half a century North Jacklin and Carlisle Motors have provided outstanding service, advice and after sales assistance to car buyers in the Mackay region.
Read more here
---
North Jacklin is Expanding
North Jacklin Nissan and Subaru car dealership is undergoing one of its biggest expansions in years after buying Carlisle Motors.
North Jacklin's Joe Watson is taking over as the principal of the Mitsubishi, Honda and Mercedes Benz dealerships. North Jacklin dealer principal John Nash said the retirement of Richard Deguara gave him an opportunity to expand so he bought the business.
According to Mr Nash, the purchase means North Jacklin will have about 25% of the new car market in Mackay.
Read more here
---
Car Maintenance 101
The first car maintenance course in Mackay available to everyone. Feedback from our Women on Wheels Workshop's has prompted us to open the next event to all drivers! (Yes, that means that men can come along too!). Every driver should have the opportunity to learn about their car, so get a group together and sign up for the next workshop. It's free & open to everyone.
The next Car Maintenance 101 will be held on Tuesday, 28th November, 2017 at North Jacklin Nissan, 49 Gordon Street, Mackay from 5:30pm - 7:00pm.
Click here find out more
How to book
Add yourself to the guest list by emailing us at promotions@northjacklin.com.au We will book you in and email out reminders about the date. Please let us know if you change your mind and can't come to the workshop at least a week prior, as in the past people have dropped out on the day which isn't ideal for catering! :-)
---
Frank Caruana Retires
On the 25th November our General Manager Frank Caruana retired after 25 years working for North Jacklin. The Daily Mercurys Michael Gee interviewed Frank before he retired and got his thoughts on the industry over the years.

Come 4 Wheel Driving with us! Next date: TBA 2018.
North Jacklin's 4WD Skills Day is open to our vehicle customers
Whether you purchased your vehicle this month or 3 years ago, you are eligible to attend our 4WD Skills Days and bring along a car full of your friends or family!
Click here to view the flyer.
Why we hold this event
Our goal is to offer customers something extra when the purchase a vehicle from us. We realise you have a choice and when you choose North Jacklin, we want you to know that we will look after you - this event is to say 'thank you' for choosing to bring your business to North Jacklin by providing you with an opportunity to attend the course that is not offered anywhere else in Mackay.
What's involved:
A full day out at a SPECTACULAR venue with tracks that vary in difficulty. Certified instructors guide you through a range of basic tehniques; allowing you to practise in your own 4WD vehicle. The course is at an introductory level and will provide you with the foundation skills that are essential to know when driving off road. If you think it will be too basic for you - think again! There are areas that are more challenging than others and you can decide if you want to try them out or not. We have had experienced drivers attend this course and they've told us that they learnt a few new tricks!
This is a very fun day out and we invite you to bring along a group. We provide all meals, snacks & beverages for your entire vehicle!
How much does it cost?
We pay for certified instructors, who charge us $250 per vehicle. We subsidise this cost and so all you pay is $99 incl gst. Remember, we provide all meals, snacks & beverages on the day for everyone in your vehicle - $99 is a great deal!
When is the next 4WD Skills Day?
The next 4WD Skills Day will be held Sunday, 10th September, 2017.
The venue is 25 minutes away from Mackay CBD. Let us know you are interested in attending by filling out the enquiry form on this page.
Please ensure you give us a contact phone number & your vehicle's rego number. If you have questions, please call us and ask for Brad on (07) 4963 2200.