Left to right: Nissan Sales Manager Tim Overall, Parts Manager Jarrod Adams, General Manager John Nash Jnr, Service Manager Tom Dillon.
Mackay business nabs top gong in prestigious Nissan Excellence Awards
A MACKAY business has been ranked number one in the nation for the fourth time after another hugely successful year in the caryard.
North Jacklin Motor Group has proven a whole of dealership approach to customer service is the key to success after being awarded Nissan's ELITE Master Dealer award for FY20.
Outperforming 28 other Nissan dealerships across Australia in the provincial category, North Jacklin Motor Group's general manager John Nash Jnr said the Mackay dealership had to exemplify excellence in all facets of business to nab the win. The business was also awarded a Nissan ELITE Dealer Excellence Award to accompany the top title – accolades the team worked hard for.
"Winners are required to embody the philosophy and vision for Nissan to provide customers with an outstanding ownership experience – from the showroom through to every aspect of the dealership operation," Mr Nash said.
"It feels great to win this award because as a team, this is something we focus on for the entire year.
"For that hard work to pay off and to claim the top spot nation-wide is really rewarding for the entire team."
North Jacklin Motor Group's team of more than 120 includes staff in new and used sales, finance, parts, service and administration.
All departments must perform to a high standard and "tick all the boxes" to qualify for a Nissan ELITE Dealer Excellence award. Mr Nash said the scoring methodology was rigorous and the dealership's win was reflective of the incredible dedication of his staff.
"For me it always comes back to our staff, we have a lot of quality long-term staff who are passionate about the industry," he said.
"Our staff and their approach to customer service is what sets the North Jacklin Motor Group apart from other dealerships."
While the Nissan ELITE Master Dealer Excellence award is the highest award given to a Nissan dealership, Mr Nash said winning the prestigious title did not mean the team would stop striving for more.
"We have won this award four out of the past five years, so our focus now turns to achieving this same result again for the new financial year."
North Jacklin Motor Group was founded in 1961 and the Gordon Street dealership specialises in both Nissan and Subaru, with a second car yard selling Mitsubishi, Honda, Mercedes-Benz and Suzuki.
The growing business has expansions on the horizon including a potential new service facility in Moranbah and the Whitsundays.
North Jacklin Motor Group | 60 Years In Business
---
Legacy lives on at the North Jacklin Motor Group as company reaches 60-year milestone
A legacy that has lasted the test of time, a business that has changed hands over the years but never changed in its ability to serve you best. This is the North Jacklin Motor Group.
Celebrating a milestone most businesses can only dream of, this year the trusted Motor Group with premises on Gordon and Gregory Streets has reached 60 years of trade.
It doesn't take long to work out how such an achievement could be reached when looking at the approach to customer service John North Jacklin took all those years ago.
Always known by his middle name, North Jacklin started the iconic Mackay business in April 1961 after a decade working as a car salesman for Fields Motors Mackay.
After acquiring the B.M.C franchise, the business opened in a rented premises at 148 Wood Street with just two staff – a humble beginning to what is now a business with more than 120 staff.
In 1963 - after relinquishing the B.M.C franchise - North acquired the respected Datsun franchise and cemented the future of the company.
Datsun, a brand of parent company Nissan, was popular among locals with the Bluebird model a sellout at just 899 pounds (about $1600 AUD).
"It was considered good value for money, that's why so many people wanted it," Mr Jacklin said.
"We also had a service ute that was number one on the floor and a heavy-duty station wagon. The Bluebird range was followed by several good ranges until finally the Datsun 1600 was brought out, and in my opinion that was the greatest car."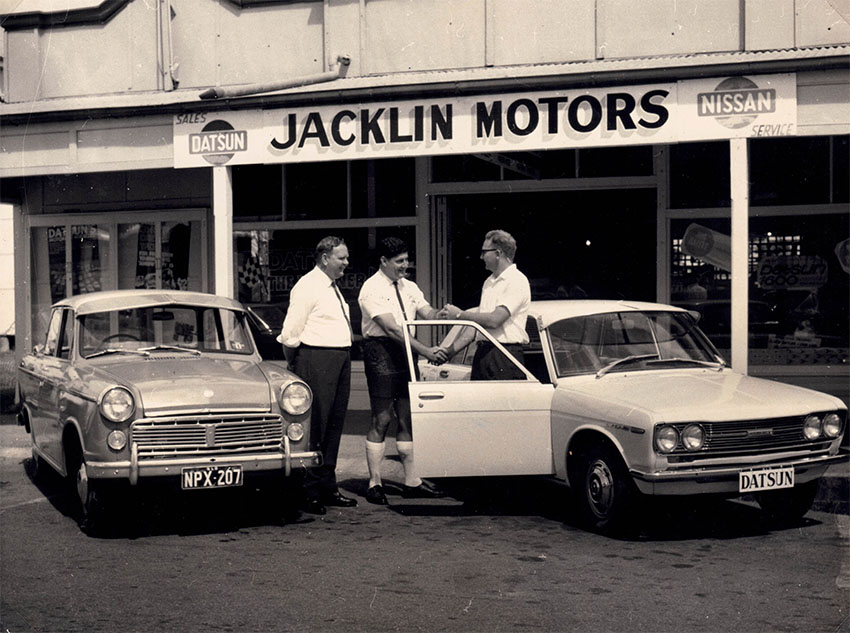 Salesman Ron Todd (left) and North Jacklin (centre) delivering a Datsun 1600 to customer Keith Bagley (right).
Flash forward to the late 1970s and with mining booming in the region, the hardtop Datsun MQ Patrol was the prize choice of coal miners who were "coming into town in droves" at the time.
But as it turned out, returning home to their wives and explaining why they had purchased a two-door car ended up being the most expensive part of the outing…
Mr Jacklin said it took about six years for the dealership to really flourish with the right staff and business model. The unique ABC staff approach was something he took pride in, but there was another unusual routine that really set the business apart.
"We would begin work punctual at 8am every day and would always start the morning with the song What a Wonderful World by Satchmo (Louis Armstrong).
"The major thing that established us was our approach to staff and customer service. We would have a 'check up from the neck up' every morning and staff would think about their ABCs…A for attitude, B for belief in themselves, C for courage, D for determination, E for effort and most importantly F for fun.
" Now a proud part of Mackay's history, the success of the North Jacklin Motor Group is often attributed to the staff, and their consideration to others.
Mr Jacklin's dedication to meeting the needs of the customer was always something he felt inspired to do, particularly after his first trip to the Nissan factory in Japan in 1967.
"In Japan, consideration to others is something they live by and I think that's something that we have tried to put into practice here, and always will," he said.
With business thriving and locals loyal to the name, the company changed hands in 1999 after new Dealer Principal John Nash moved to the region with his wife and three children.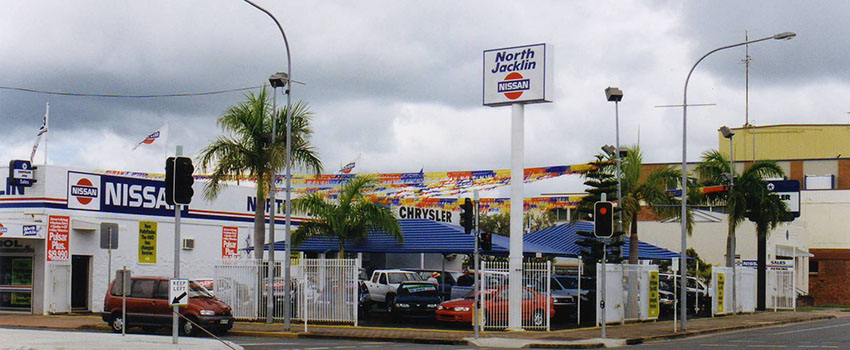 North Jacklin Nissan, located at 110 Wood Street in the early 2000's.
Sugarcane and cattle were the prominent industries at the time and the town was prosperous, but it wasn't long before mining took centre stage and the company boomed.
In one of the busiest months, the dealership sold more than 120 cars, with about 40 of those Nissan Patrols.
Mr Nash said the 4x4 market was a huge priority for the business – for good reason.
"My favourite vehicle would have to be the Patrol wagon," he said.
"It's just comfortable, plenty of room and a pleasure to drive."
Thousands of Mackay families agreed, with the Patrol one of company's best-selling cars for many years.
Maintaining Mr Jacklin's passion for the industry, developing relationships with customers was something Mr Nash said was always front of mind for his staff. To be a cut above other dealers, you had to solve your customer's problem.
"As long as the customer is happy at the end of the day, even if it costs us money, that's the most important thing," he said.
"Our staff are very customer centric, empowered and focused on fixing the problem if things go wrong.
"That's just our culture. It's never about a one-off transaction, it's about making customers for life."
While the North Jacklin Motor Group may be known for its fleet of cars, its customer service and its long-term staff, the heart of the business has always been in the community.
For decades Mr Jacklin sponsored sporting groups, local community groups and local events – with nearly all those sponsorships continued on through Mr Nash.
Now his son, John Nash Jnr, continues the legacy as general manager of the business and was instrumental in the 2017 launch of the Great Community Fundraiser.
With a car donated as the prize of the raffle each year, thousands of tickets are sold annually by local groups raising more than a quarter of a million dollars for organisations like RACQ CQ Rescue and Mackay Basketball.
It was initiatives like the Great Community Fundraiser that made his busy job so rewarding, said Mr Nash.
Progressing in his career over the past 15 years with such a well-respected Mackay business, and now being a part of the 60-year milestone, made him feel extremely proud.
John Nash Jnr, General Manager of the North Jacklin Motor Group.
"Being able to use our brand and our platform to give back to the community is huge for us," he said.
One of the biggest achievements for the company has been the expansion into selling Mitsubishi, Honda, Mercedes Benz and Suzuki along with acquiring a second used car yard.
Offering a more diverse fleet of cars to customers has been crucial in meeting their changing needs over the years, with sales of the additional brands now coming close to matching that of Nissan.
With business showing no signs of slowing down, several expansions are on the horizon for the North Jacklin Motor Group including the potential for new service facilities in the Isaac region and the Whitsundays to cater for the growing population.
Mr Nash said while it was always the goal to grow, it was necessary to balance expansion with the importance of providing consistent customer service.
"We have a loyal customer base who come back time and time again because of our country town approach to customer service, and we always put them first," he said.
"I guess when you have a look back at the way the dealership has operated over the years, the approach to staff training and customer satisfaction has always been very similar. There are some things we do differently now but when it comes to selling a car, a lot of things have stayed the same."
When he's not busy managing the dealership, Mr Nash enjoys golf, sport and spending time with his family including dad John, who is now semi-retired from the business.
Fishing, travelling and cruising around in the caravan now takes priority but John will always be seen popping into the dealership from time to time – his love of the industry never fades.